After last week's strong premiere episode, Brooklyn Nine-Nine falls back to earth a little with an episode filled with chuckles, but not a lot of outright laughs.
NOW STREAMING:
"Hitchcock & Scully" opens without warning in 1986, which means the land of shoulder pads, Miami Vice color schemes, and really ugly apartments. Two extremely good-looking guys (Wyatt Nash & Alan Ritchson) come in for a drug deal, but soon reveal themselves to be undercover cops, complete with wise-cracks when they apprehend the bad guy, Gia Costa. It turns out that they are…resident Nine-Nine slackers Hitchcock (Dirk Blocker) and Scully (Joel McKinnon Miller)!
Post-credits, we're back in the present as everyone copes with the new realities of a doubly crowded precinct as a result of Captain Holt (Andre Braugher)'s feud with Commissioner Kelly (Phil Reeves). Desks are squeezed together like a Tetris game, resources are scarce and tempers are flaring.
This leads to a mildly amusing class conflict subplot wherein Terry (Terry Crews) and Rosa (Stephanie Beatriz) label themselves "Upstairs People" and Amy (Melissa Fumero) and her first-floor folks "Downstairs People." The language is obviously inflammatory and carries all kinds of icky race/class connotations, so thankfully Brooklyn Nine-Nine is wise enough to ensure all of the cast members involved are POC (And can we just take a moment to appreciate how diverse this great cast is?) While all three actors are game for some ridiculous accusations about who is to blame for mucking up the microwave, this storyline is the definition of low stakes. Unfortunately, it doesn't even have a ton of memorable jokes. One stand-out, however: a variation on Fumero's all-time classic line "Ya basic!", which is reappropriated here as "Ya banned!"
Holt and Gina (Chelsea Peretti) don't fare much better in their subplot, which finds Gina helping Holt prepare for a TV interview. Typically whenever these two characters have a dedicated subplot, the results are electric due to their significantly different attitudes, but in "Hitchcock & Scully" they're simply not afforded the screen time to make it work. The glimpse of Gina Jargon, Gina's patented public speaking technique (involving a lot of flailing arm motions and tongue twisters) is amusing but far too brief. Disappointingly, stiff straight man Holt is never seen attempting the ridiculously physical performance; instead, there is a quick insert of Gina bombing the interview in a performance that garners "the most complaints the program has ever received." Again, chuckle-worthy, but not as funny as it could have been.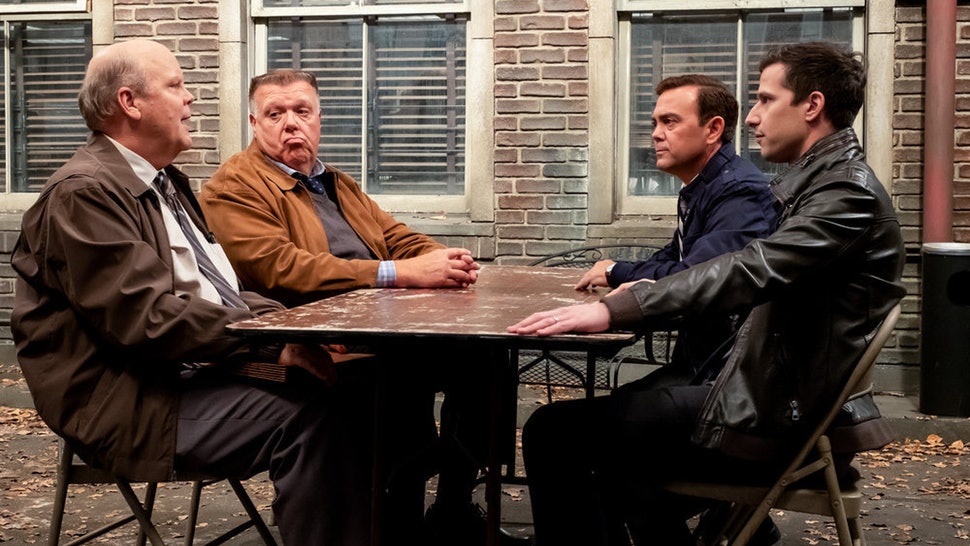 Unsurprisingly the A-plot with Jake (Andy Samberg) and Charles (Joe Lo Truglio) investigating Hitchcock and Scully's open internal affairs case fares best. It is, however, still a bit of a one-joke bit: Hitchcock and Scully are lazy, food-obsessed buffoons. There's little doubt that the squad's least productive members are covering something up, but even when Jake and Charles believe that they've stumbled onto something incriminating, writer Lang Fisher never truly leans into the idea that they're corrupt. The problem is that the audience knows that Hitchcock and Scully are inherently good (we've seen them solve cases before and the opening flashback set in '86 verifies that they were once the Peraltas of the precinct).
Ultimately this storyline relies too heavily on the joke that Hitchcock and Scully were once hot, fit, capable detectives and now they are not. This is the same familiar ground that the show treads whenever these characters are involved, so dedicating the entire A-plot to them feels like overkill. Fisher arguably knows this, which is why there is yet another subplot about how Charles is too trusting and his desire to adopt Nickolaj's 34 year old brother, Dragomir. A fourth storyline proves too much for a 22 minute episode, but none of it quite lands because it's either too slight and/or too obvious.
Thankfully, because this IS Brooklyn Nine-Nine, there are still plenty of witty word plays and sight gags. Anyone reacting to Hitchcock and Scully's icky personal hygiene and outdated beliefs is funny, but it is especially enjoyable when it's Samberg. See: his facial expressions over Scully's cheese-related lactose intolerant "dutch oven"-ing of the interrogation room; the discovery of the "male body butter"; when Jake and Charles are locked like beavers in the Beaver Trap van; and finding Hitchcock and Scully covered in "Slut Sauce" at the Marine Park Wing Slutz franchise.
"Hitchcock & Scully" may not deliver Brooklyn Nine-Nine's typical trademark brand of funny, but it's still amusing.
Random Thoughts:
Initially the attempt at topical humor by Hitchcock repurposing Trump-style sound bites such as "Fake News" and "Sad!" lands with a thud, but Jake responding "Yup, that's definitely the language of the innocent" is a nice rejoinder.
Less amusing is the line "You bet your nips, skid sauce." This plays like a first draft attempt that needs another pass.
This week in uncomfortable imagery courtesy of Charles: "Suckle at the teat of my human kindness" is a phrase that no one should ever utter.
Is anyone surprised that Jake accidentally calls Holt his dad when the Nine Nine saves the day at the Wing Slutz?
In defense of Gina Jargon, it did help Ellen Musk win S1 of VH1's Queen Bitch. Fingers crossed that Brooklyn Nine Nine takes a cue from 30 Rock and shows us a glimpse of THAT remarkable sounding program.