The Spool / Festivals
A Preview of the 2018 Chicago Critics Film Festival
The Chicago Film Critics Association's 6th annual film festival (May 4-10) features some of the year's best films that might otherwise fly under your radar.
This piece originally posted at Alcohollywood
For the past six years, the Chicago Critics Film Festival has been a brilliant showcase for some of the year's most intriguing, bewildering and superlative films. Curated by members of the Chicago Film Critics Association, the CCFF is a week-long smorgasbord of festival hits and currently-undistributed films that comprise some of the coolest rarities of 2018.
Here at Alcohollywood, we'll be covering the fest with capsule reviews, full reviews, interviews and more. In the meantime, we have a few recommendations for you as the fest kicks off tomorrow. Be sure to get your tickets at Music Box Theatre; we might even see you there!
Clint Worthington
Editor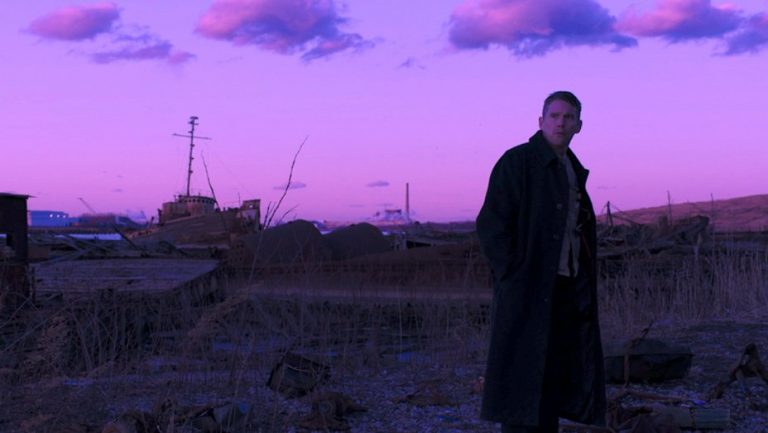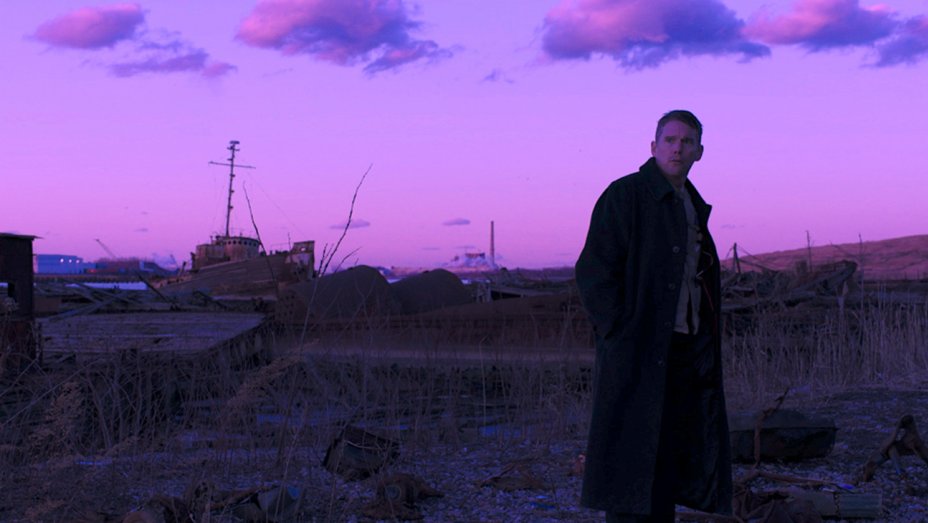 FIRST REFORMED (dir. Paul Schrader) – Monday May 7th, 7:15pm
Paul Schrader is a director who's often lauded and dismissed in equal measure. (Who else could make both Mishima: A Life in Four Chapters and The Canyons?) However, his most interesting works tend to lie in the Catholic filmmaker's deep exploration, and criticism, of faith and its intersection with the vulgar (e.g. The Last Temptation of Christ). His latest, First Reformed, is but the latest chapter of that investigation, and it's one of the most haunting, arresting films of the year.
Reverend Ernst Toller (Ethan Hawke) is a former military chaplain, eking out a humble life serving the Lord at a small historical church serving as a subsidiary of a larger megachurch. One day, Mary, one of his parishioners (played by Amanda Seyfried) tasks him with counseling her husband Michael, a former soldier who's diving deep into radical environmentalism and has taken some scary, violent steps toward actualizing his activism.
In the face of Michael's unshakable sense of purpose and panic – "we will see all this in our lifetime," he says – Toller finds himself drawn into deeper questions of man's stewardship of the Earth, how that fits into God's plan, and the complicity he feels at being the mouthpiece for a corporate church (headed by Cedric the Entertainer) that may contribute to these factors, however tangentially.
Schrader is no stranger to dark, intense character studies of disillusioned men driven to extremes by noble purpose (see: Taxi Driver). But what sets First Reformed apart, besides its impeccable craft, is its ability to connect those concerns with Schrader's other pet subject: religion. As Toller, Hawke is muted, tightly coiled, meticulous in every way you'd expect of a man constantly grasping for order and discipline in a chaotic world. He's Travis Bickle with a preacher's collar – the perfect avatar for Schrader's questions about how corporatized religion betrays Biblical principles for the sake of greed, but also a broken man who's not without his own hypocrisies.
-Clint Worthington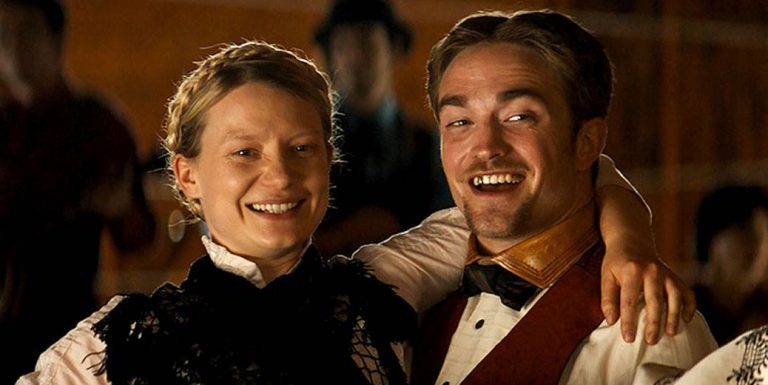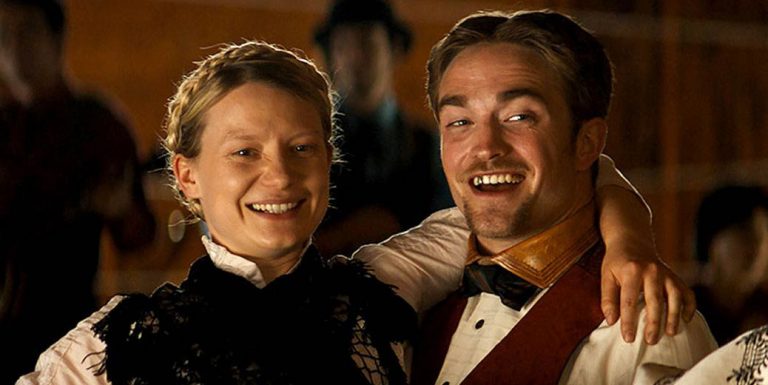 DAMSEL (dirs. Nathan and David Zellner) – Sunday May 6th, 7:15pm
Written, directed by, and starring brothers David and Nathan Zellner (Kumiko the Treasure Hunter),
Damsel brings the same off-kilter, darkly humorous sensibility of their previous film to the Old West.
Following the efforts of fancy boy Samuel Alabaster (Robert Pattinson) to track down the love of his life, Penelope (Mia Wasikowska), with the help of the local parson (David Zellner), a hopeless sham whose every syllable seems to echo from a well of sadness.
The film looks gorgeous; the cinematography makes great use of the alien mesas of the Southwest desert, and The Octopus Project's idiosyncratic score fits right into that setting. This evident perfectionism elevates the film, adhering to the conventions of the genre while the plot inverts its tried and true tropes.
Every male character in the film sees himself as the proverbial Man in the White Hat who has to save the girl. One by one, every man Penelope meets offers to aid her on her behalf, and then follows by offering their hand in marriage. Wasikowska, as it happens, is doing perfectly fine on her own, thank you very much, and every well-intended intervention just removes another shred of dignity until she has nothing left but her true grit.
You don't see many feminist Westerns, and Damsel encourages you to reflect on the topic in a modern context while imagining how much more difficult it must have been back then. Damsel is a brave film in many ways, both in content and in presentation, but what's most impressive is how unafraid the movie is to take its time, to breathe and contemplate, to bask in life's many pregnant moments where speech is either unnecessary or insufficient.
Don't worry, there are also shootouts and explosions. This is still a Western, after all.
– Jared Latore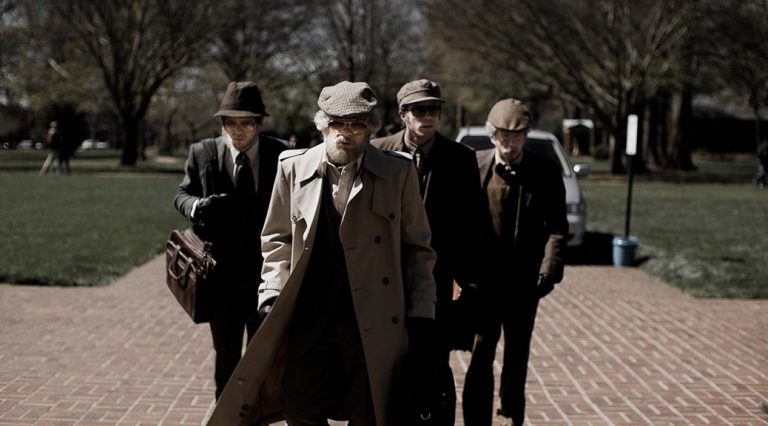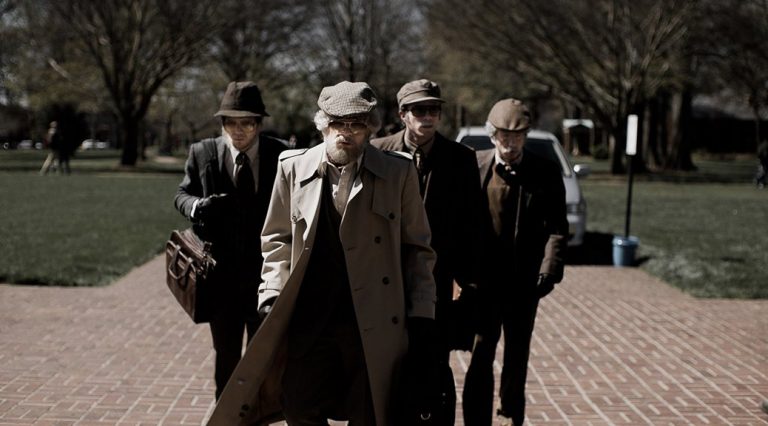 AMERICAN ANIMALS (dir. Bart Layton) – Wednesday May 9th, 9:30pm
2018's become a banner year for films that blur the lines between documentary and fiction in numerous, inventive ways – The 15:17 to Paris and The Rider both dramatized the lives of its subjects by bringing the real folks in front of the camera to play themselves (to wildly varying results; see The Rider, skip Paris). Put that narrative style in a blender with true-crime docs like The Imposter and the dark comedy of Michael Bay's Pain and Gain, and you've got something akin to American Animals.
Kicking off with the brazen title card "THIS IS NOT BASED ON A TRUE STORY," American Animals flits carefreely between doc and drama as it retells the story of four friends (played in dramatizations by Barry Keoghan, Evan Peters, Blake Jenner and Jared Abrahamson) who attempted to pull off the biggest art heist in American history – the theft of a $12 million James Audobon art book, held in the library of Transylvania University.
Bart Layton's direction drips with style, deploying inventive editing tricks to keep the viewer unmoored in time and location. One early scene playfully switches between a rooftop and car-seat conversation about the heist, match-cutting between passes of a cigarette. It's these bits of formal flair that make American Animals feel like a late-career Scorsese picture in all the right ways.
Most intriguing, though, is the effortless play Layton engages in between depicting its narrative as dramatization, documentary or outright fiction. The real people involved in the heist get in on the action in multiple ways – sometimes it's just talking head interviews explaining that stage of the plan, but every so often they'll engage with the actors playing them. It's a trip to see the real Warren Lipka sitting in a car having a conversation with the actor playing him, who's still in character. It's great when films push boundaries and explore the limits of genre like this; if that brand of experimentation is for you, American Animals is one to see.
-Clint Worthington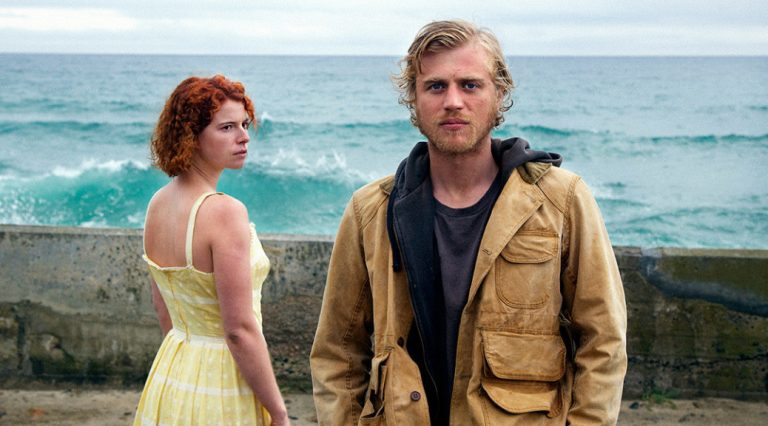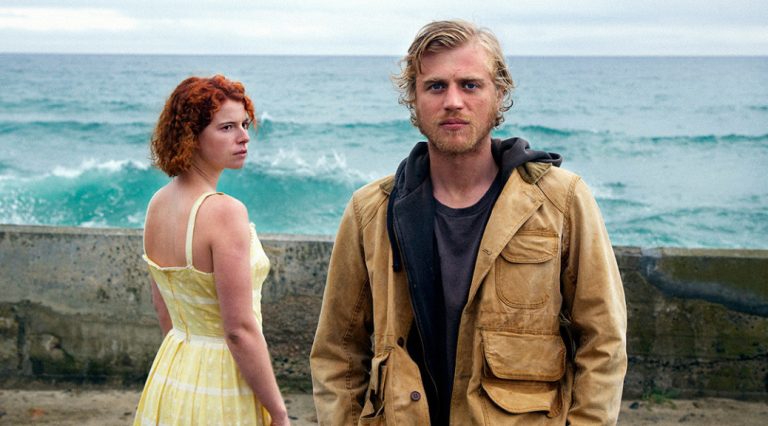 BEAST (dir. Michael Pearce) – Saturday May 5th, 11:59pm
Beast isn't just one of the most unsettling movies you'll ever watch; it practically drips menace from every frame, every moment. The movie follows Moll (Jessie Buckley), a deeply troubled young woman whose defining trait (at least at first) is the stifling, confining nature of her life. Her wealthy family, her isolated, repressive island community, and her own past may as well be a series of chains tightly wound around her, keeping her firmly in the place that's been chosen for her.
Moll doesn't have the strength to break free until she meets Pascal (Johnny Flynn), a mysterious outsider with a past of his own. He is as alluring as the quiet sense of danger lingering around him, but he and Moll soon form an intense connection that finally allows her to feel free for the first time in her life. So when she not only stands by Pascal but lies for him when he is the prime suspect in a series of brutal murders, it's heartbreakingly, disturbingly understandable.
It's astounding that writer-director Michael Pearce is making his feature-length debut here.  Fans of British cinema will recognize more than a few familiar faces, but for the most part, Johnny Flynn and Jessie Buckley are a relative unknown and a newcomer, respectively. Both of them prove more than capable of conveying all the psychological drama without needing a voiceover.
The thing is, while Beast may be about a series of very tragic, gruesome murders, there's little actual bloodshed or lingering on crime scene photos. So skilled, so magnetically unhinged is Buckley's performance, it's reminiscent of Nina Hoss in Phoenix, another film about a woman who must decide if her lover is capable of the darkest of betrayals.
– Andrea Thompson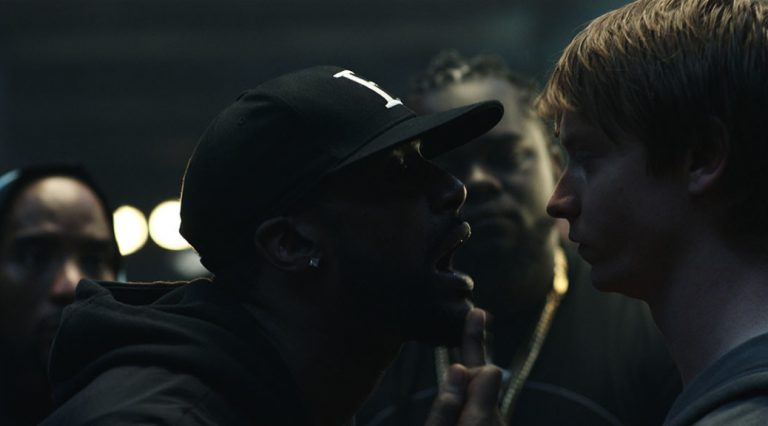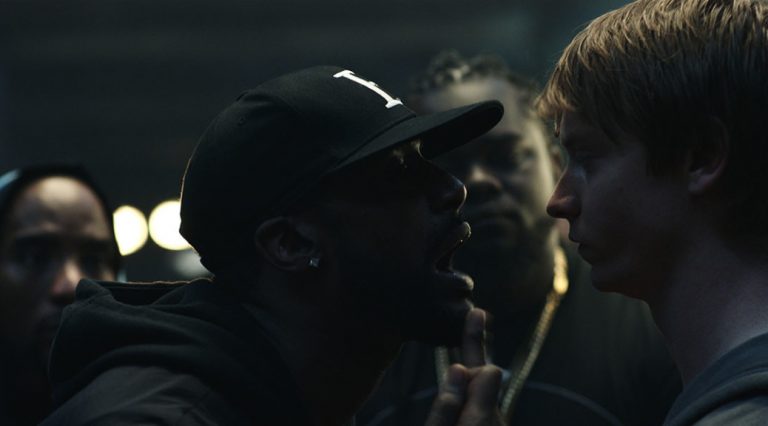 BODIED (dir. Joseph Kahn) – Saturday May 5th, 7pm
Joseph Kahn is one of the brassiest, ballsiest, most vibrant visual stylists working today – this reviewer still champions the whirling-dervish enthusiasm of low-art celebrations like Torque and Detention – and his latest, Bodied, is maybe his most assured film yet.
A broad but unapologetic satire of hip-hop culture and PC academia, the film follows Adam (Caleb Worthy, American Vandal), a dweeby white grad student studying the use of the n-word in the California battle rap scene – partially out of voyeuristic fascination, partly because he thinks it's where the real poetry scene is headed. Suddenly, he finds himself dragged into the competitive rap battle world, spitting bars that impress even seasoned vets like Behn Grym (Jackie Long). All the while, he butts up against his vegan, feminist girlfriend (Rory Uphold) and the prissy academics he surrounds himself with at college – including his bloviating professor of a father (Anthony Michael Hall).
The real secret to Bodied's sauce is the script by Alex Larsen (also known as "Kid Twist," a prominent Toronto rapper) which deftly balances criticisms of cultural sensitivity and uptight PC culture with an acknowledgement of the limitations of throwing that sensitivity to the wind. With whip-smart dialogue and some of the freshest bars you'll hear on movie screens outside of 8 Mile, Larsen's script miraculously sends up the extremes of that endless discussion about race and academia without feeling like it comes down hard on one end of the spectrum or the other.
Aiding that is Kahn's brilliantly heightened visual style, a dizzying array of bold colors, superimposed text and kinetic camera movements that keep everything just surreal enough to avoid passing for earnest political commentary.
-Clint Worthington
https://www.youtube.com/watch?v=YgpL6R-X5Ng